Coronavirus Update
Peace of mind for your travel
We promise you that throughout the global impact of COVID-19 (Coronavirus), Flysharp is working around the clock to care for you on your travel journey
Your booking is in good hands
Rest assured that the money you spent on your travel is completely safe. Flysharp is going to provide you with all necessary assistance, as well as any alternative flight options, refunds or credit voucher for future travel per the airline's policy and advisory, and as soon as we can.
General advice for travellers
The World Health Organization has declared the outbreak of the new coronavirus as a pandemic. We request all travellers to check the international travel advice from the government and act in a careful and responsible manner to prevent any risks and spread of the virus.
Flysharp is constantly monitoring the situation and is prepared to assist its customers. We are keeping an eye on the developments and are committed to helping our customers in the best manner possible as per the FCO's travel advice. Similarly, for any alternative options and solutions for your bookings, we will be able to assist you as per the options available from the suppliers - airline, hotels and resorts etc - as and when they are available.
Our lines are open 24/7 and we are happy to assist you with all available options and solutions. However we may be experiencing a very high volume of calls when you contact us. If you are seeking advice on travel to your destination, it is best to monitor FCO's advisory. Since travel advice for various destinations is changing frequently, we request our customers to contact us only if your travel is within the next 7 days. This will also let you avoid long wait times on phone.
Travel Update
India has suspended all tourist visas till 15 April, 2020.
11 March 2020
Vietnam suspends visa exemptions for UK & seven other European nations:
Please note that from 00:01 Thursday morning, 12th March 2020, the 15-day single visa waiver on arrival for all travellers from the United Kingdom, Denmark, Norway, Finland, Sweden, Germany, France and Spain is suspended until further notice. Passengers must obtain a visa in order to travel on Vietnam Airlines. For further information please visit https://www.gov.uk/foreign-travel-advice/vietnam/entry-requirements or the Embassy of Viet Nam http://vietnamembassy.org.uk/ (contact details on their website).
Medical Declaration Form for travellers entering Vietnam:
Please find attached a copy of the mandatory Medical Declaration Form. This form can also be found on http://tokhaiyte.vn or http://suckhoetoandan.vn/khaiyte websites. Please note that the Medical Declaration Form must be filled either online or as a hard copy to be handed in on arrival in Vietnam.
16 March 2020
India Travel Advisory for Novel Coronavirus Disease (COVID-19)
In continuation of the travel advisory issued on 11th March 2020, the following additional advisory is issued for travel to India:
(i) Expanding compulsory quarantine for a minimum period of 14 days for passengers coming from/transiting through UAE, Qatar, Oman, and Kuwait. This will come into effect from 1200 GMT on 18th March 2020 at the port of first departure.
(ii) Travel of passengers from member countries of the European Union, the European Free Trade Association, Turkey and United Kingdom to India is prohibited with effect from 18th March 2020. No airline shall board a passenger from these nations to India with effect from 1200 GMT on 18th March 2020. The airline shall enforce this at the port of initial departure.
(iii) Both these instructions are temporary measures and shall be in force till 31st March 2020 and will be reviewed subsequently.
17 March 2020
Pakistan Travel Update
PCR HEALTH CERTIFICATE REQUIREMENT
As per new Government of Pakistan directive, PCR tests are required from each International passenger entering into Pakistan, certifying that the passenger is 100% Corona virus free.
Each passenger is required to have himself tested & carry this Certificate
The Test Result should be no older than 24 Hours at time of travel.
This rule for carrying the health certificate is effective from 20 MAR 2020 on all International Passengers arriving into Pakistan.
Passengers can't come to Pakistan without holding this Valid Certificate of Health.
All stations are requested to advise their Agents to inform returning passengers prior to commencing travel back to Pakistan.
21 March 2020
Pakistan Travel Update
All international passenger flights to Pakistan suspended from 21 March to 04 April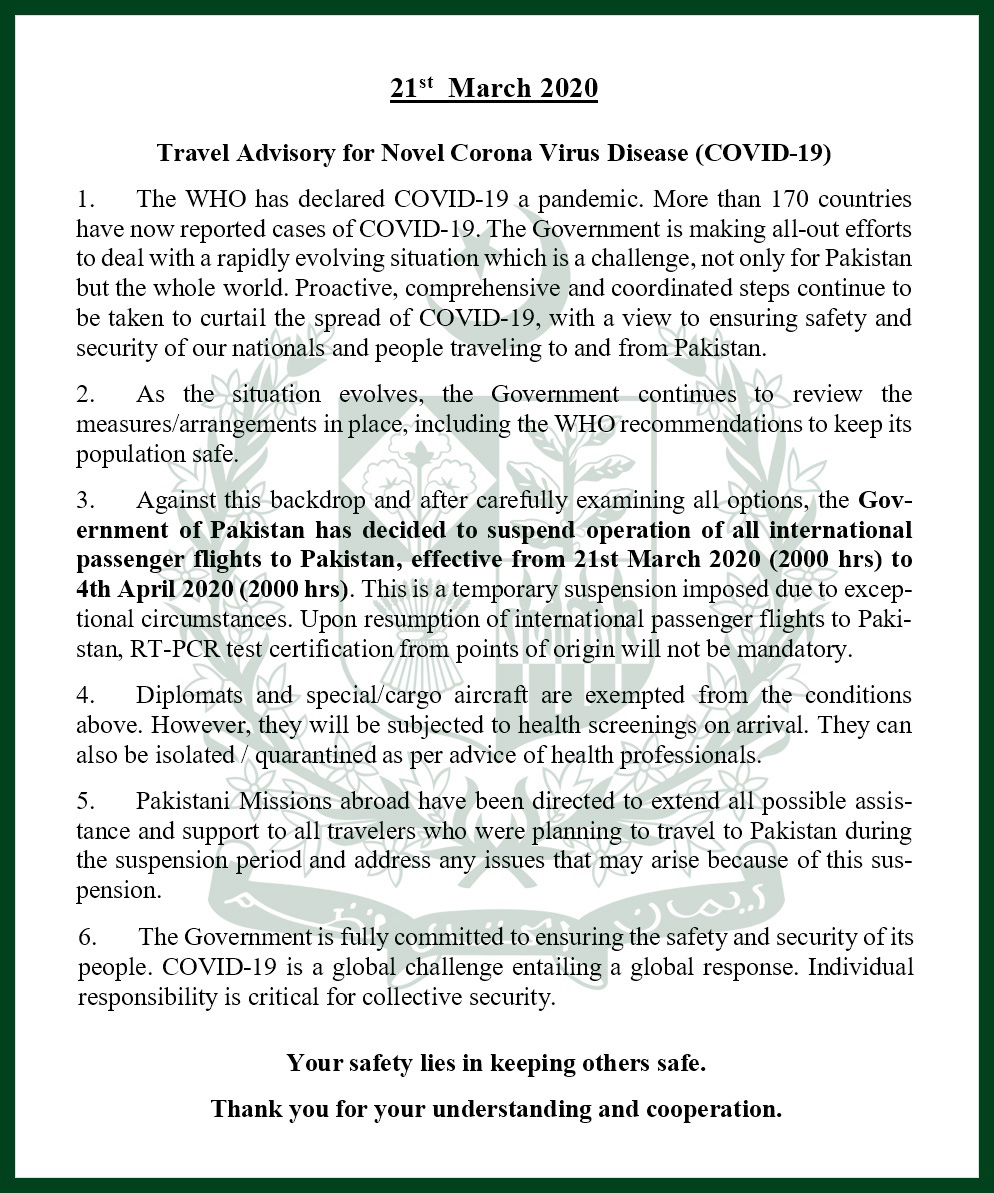 For all the latest travel advice and updates, please always check the FCO website before travel
What our customers say...
Why book with FlySharp?
Fly Sharp stands for reliability, we offer honest fares at great prices powered by cutting-edge technology and round-the-clock dedicated customer support. We have flight deals direct with all major airlines for destinations spanning the globe, no middleman, just great value fares and reliable support.

Fully licenced and bonded with IATA and ATOL
Book with Confidence - https:// secure site
Best deals Guaranteed
Dedicated Customer Support
Flysharp © Copyright 2023. All rights reserved Many of the flights and flight-inclusive holidays on this website are financially protected by the ATOL scheme. But ATOL protection does not apply to all holiday and travel services listed on this website. Please ask us to confirm what protection may apply to your booking. If you do not receive an ATOL Certificate then the booking will not be ATOL protected. If you do receive an ATOL Certificate but all the parts of your trip are not listed on it, those parts will not be ATOL protected. If you have booked a flight only where the ticket is not issued immediately, your flight will be protected under our ATOL. Please see our booking conditions for information, or for more information about financial protection and the ATOL Certificate go to www.caa.co.uk/ATOLCertificate